News
---
Group Exhibition: Smells Like Teen Spirit
Opening:
Monday, March 30. 2015 – 19 pm
Opening Speech: Petra Nol
with: Ole John Aandal (NO), Claudia Balsters (DE), DK (SI), Paul Kranzler (AT), Sira-Zoé Schmid (AT), Axel Stockburger (AT)
Fotogalerie Wien
Association for the Promotion of Art Photography and New Media
Währinger Strasse 59/WUK, 1090 Vienna, Austria
---
Book Presentation: Blockbuster
Vienna-based artist Axel Stockburger presents his book Blockbuster (Revolver Publishing). This artist's book features a selection of Stockburger's works, addressing the idiosyncratic worldof fan culture in arenas such as computer games, anime, manga, and cosplay.
In conversation with curator and Spike editor Christian Kobald
Friday, 5 December, 7pm
SPIKE
ROSA-LUXEMBURG-STRASSE 45, 10178 BERLIN
---
Interview: Ruth Sonderegger
Interview mit Axel Stockburger von Ruth Sonderegger für Medienimpulse (german)
---
Temporary Installation: QUANTITATIVE EASING (FOR THE STREET)
Quantitative Easing (for the street) is a temporary installation at the Kunstplatz Vienna. The project was curated by Muntean/Rosenblum and funded by KÖR (Kunst im öffentlichen Raum) Vienna.
Opening: Tuesday, May 27 2014, at 16:30 pm, Kunstplatz Graben, Graben Nr. 21, 1010 Wien
Opening Speakers:
- Martina Taig, director of KÖR
- Muntean / Rosenblum, artists and curators
- Gerald Nestler, artist and theorist
- Andreas Mailath-Pokorny, city council for Arts and Science
The artist is present.
Public Talk: Wednesday, June 18 2014, 18 Uhr, Kunstplatz Graben,  Graben Nr. 21, 1010 Vienna
- Elisabeth Springler, economist, WU Wien, FH Wien
- Andreas Kailich, asset manager
- Beat Weber, economist, OeNB
:
:
.
more information about the project here >>>
---
Group Exhibition: Prousts Fragebogen
Elektrohaus Hamburg presents
Prousts Fragebogen
with works by  Amalie Jakobsen (DK), Rosa Joly (FR), Phelim McConigly (IRE), Julia Metropolit (FR), Axel Stockburger (DE), Yuki Terasaka (JA)
Opening: Fr. 25.4, 19 Uhr
Exhibition Duration: 26.4 – 1.5
Opening Hours: Sa. – So. 15:000 -18:00
Pulverteich 13, Hamburg
Proust's Questionnaire brings together the work of  ​six​ artists​ working​ in different media who respond to important questions of culture with an emphasis on language and its transformative potential as an analytical movement that is at once combat and caress. The form of the questionnaire was not originally intended for artists, but refers​ ​to social practices in the delicate salons and drawing rooms of 19th ​ century ​Paris and London. In Prousts Questionnaire, the hybrid emerges in the steady and meditative repetition of homely questions. Are these artists in love? Yes, since they are waiting. As such, desire – which is to say the interstice between these artists and the Other – constitutes a transformative temporality from which new agency can become.
---
Exhibition: A STONE, A WORD ACTIVATED BY
exhibition of Nicolas Jasmin's PERMANENT
Tuesday  22.04.2014, 19:00 – 21:00
Blickle Raum Spiegelgasse
Spiegelgasse 2, Dachgeschoß
1010 Vienna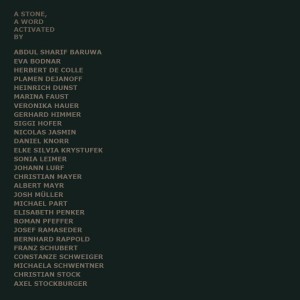 A STONE,
A WORD
ACTIVATED
BY
ABDUL SHARIF BARUWA // EVA BODNAR // HERBERT DE COLLE // PLAMEN DEJANOFF //
HEINRICH DUNST // MARINA FAUST // VERONIKA HAUER // GERHARD HIMMER // SIGGI HOFER //
NICOLAS JASMIN // DANIEL KNORR // ELKE SILVIA KRYSTUFEK // SONIA LEIMER // JOHANN LURF //
CHRISTIAN MAYER // ALBERT MAYR // JOSH MÜLLER // MICHAEL PART // ELISABETH PENKER //
ROMAN PFEFFER // JOSEF RAMASEDER // BERNHARD RAPPOLD // FRANZ SCHUBERT //
CONSTANZE SCHWEIGER // MICHAELA SCHWENTNER // CHRISTIAN STOCK // AXEL STOCKBURGER
---
Group Exhibition: DaDaDa Academy: STOCKBURGER / PENKER / FAUST
20.12.2013 19:30 – 05.01.2014, Centralna Postaja, Koroška cesta 5, 2000 Maribor
VITRINES – DaDaDa Academy: STOCKBURGER / PENKER / FAUST
The presentation Stockburger/Penker/Faust engages with the relationship between the age old cultural form of the mask and contemporary forms of subjectification that owe to masking, such as fashion or Avatars in Online Games and cosplay. As Claude Levi Strauss has shown, the mask can become that which separates nature from culture, while at the same time enabling the transformation into a spirit or an animal, in animistic and spiritist cultures. The presented works of Elisabeth Penker, Axel Stockburger and Marina Faust aim to situate themselves in the interstices between mask and person.
---
Screening: Fat Finger Confession
"Fat Finger Confession" is part of the program Screening Room: Vienna
organised by Regina Barunke
25.10.2013 – 19:30
Temporary Gallery , Mauritiuswall 35, Köln
---
Artist Talk: Process Yerevan
Artist Talk, invited by Vahe Budumyan (utopiana.am) on August 29, 2013 – 7:00 pm at PROCESS,
1 Saryan Street, Yerevan, Armenia.
---
Screening: J Comme Jeu

Un abécédaire d'œuvres vidéos, filmiques et multimédias…
Un cycle proposé par Nathalie Hénon et Jean-François Rettig.
"J comme Jeu" – Juli 10. 2013 – 19:30
La Gaîté Lyrique | Le lieu des cultures numériques
3bis Rue Papin 75003 Paris, France
Les artistes réinterprètent et détournent le jeu, notamment vidéo, explorent l'interstice réel ou numérique. Une séance conçue elle-même comme un jeu. Le hasard et le public en décident le déroulement.
Jaime Davidovich, Gordon Matta Clark : Reality Properties : Fake Estates (Vidéo, noir et blanc, 7 min., 1974-1975)
Jodi : Max Payne Cheats Only (Création numérique, couleur, [extrait] 5 min., Pays-Bas, 2006)
Joan Leandre : In the Name of the Kernel Series – Magic Line (Création numérique, couleur, 22 min. 54s., Espagne, 2011)
Baden Pailthorpe : Formation V (Création numérique, couleur, [extrait] 5 min., Australie, 2011)
Benjamin Nuel : L'Hôtel (Vidéo, couleur, 10 min., 2008)
Axel Stockburger : White Transformer (Vidéo, couleur, 7 min. 16s., Autriche, 2011)
Raphael Siboni, Fabien Giraud : Friendly Fire (Vidéo, couleur, 11 min. 14s. , France, 2007)
Federico Solmi : Douche Bag City (Animation, couleur, 8 min., Italie/USA/Australie, 2009)
---
Group Exhibition: Glitch
GLITCH Unser Schreibzeug arbeitet mit an unseren Gedanken
18.05. – 29.06.2013
Sylvia Eckermann, Thomas Feuerstein, Christina Goestl, Lawrence Abu Hamdan, Gerald Nestler, Axel Stockburger, Peter Szely
Opening Friday, 17.05.2013 – 20:00h
Soundperformance Peter Szely / discussion with the artists: 18.05.2013 – 18:00h
Kunstraum Innsbruck
Maria-Theresien-Straße 34, Arkadenhof
6020 Innsbruck, Austria,
office@kunstraum-innsbruck.at
www.kunstraum-innsbruck.at
---
Solo Exhibition – Poster Series: Worldeater Saprophyt
Worldeater: Saprophyt,  from April 2013
Series of posters for public space, 594mmx841mm, 6 color print, 2013
500 / of which edition of 100 numbered/signed
Axel Stockburgers project for Saprophyt consists of a series of posters that will be visible in teh Viennese public space from April 2013. The starting point for this poster is a listing of all the names of people who were engaged throughout the last 4 years of Saprophyts existence as an art space. In this sense the work continues Stockburgers engagement with forms of representation of what he understands as "cultural islands". This approach takes a critical stance in relation to the economics of attention that are increasingly influencing the field of art production and reception. Saprophyt as a physical space is translated into a network of relations and infiltrates public space.
Plakatserie im öffentlichen Raum, 594x841mm, Offsetdruck, 6-farbig, 2013
500 Stück / Edition von 100 Stück nummeriert/signiert
Axel Stockburgers Arbeit für Saprophyt besteht aus einer Serie an Posters, die ab April 2013 im öffentlichen Raum in Wien plakatiert werden. Der Ausgangspunkt für diese Plakate ist eine Auflistung der Eigennamen aller bis dato an Saprophyt beteiligten Personen die graphisch als eine Art Insel von Bezügen repräsentiert werden. Einerseits folgt Stockburger damit seiner Untersuchung voneinander getrennter kultureller Inseln, wie sie in seiner Serie "Worldeater" anhand von verschiedenen Formen von Auflistungen erscheinen. Andererseits wird hier die im Rahmen der Aufmerksamkeitsökonomie stattfindende Wertsteigerung von Namen als Marken, auch und gerade im Feld der Bildenden Kunst, in den Vordergrund gerückt. Der physikalische Ort Saprophyt wird damit medial in den öffentlichen Raum, Cafés, Offspaces, Galerien und Clubs übertragen und aufgelöst.
---
Film & Art Festival: Rencontres Internationales Paris/Berlin/Madrid
as part of the "TOPOGRAPHIES VIRTUELLES" exhibition during Rencontres Internationales /Paris/Berlin/Madrid
DU 1er AU 8 DÉCEMBRE 2012
Une œuvre différente chaque jour présentée en boucle. Il ne s'agit pas d'une exposition dans l'espace, mais dans le temps. Jour après jour se dessine un questionnement sur la notion de réécriture des espaces virtuels. Avec: Joan LEANDRE, Marcel WESDORP, Baden PAILTHORPE, Axel STOCKBURGER, Francis NARANJO, Hubert CZEREPOK, Burkhard VON HARDER.
PALAIS DE TOKYO
13 Avenue du Président Wilson – 75116 Paris
Métro: Ligne 9, stations Iéna et Alma Marceau
---
Panel Discussion: Music and Computer Games

Friday 16.11.2012, 12:00 – 13:30, Herz Jesu Kirche, Köln
Panel Discussion about the relationship between music and digital game culture as part of the Next Level Conference 2012, Cologne with: Frank Barknecht, author and developer, Johannes Kreidler, composer. Moderation: Patrick Hahn, Producer Opera Stuttgart
---
Exhibition: left & right
Left as leaving something, left as leftist, art gratuit, art in public space, street art, theft and inspiration, left China, Austro Sino leftists, history left, media left, left Austria, the Tao and Te, way and the virtue, the instant, the official.
Right as right, as right side, right as conservative, Yin and Yang, dichotomy, right to do so, the unofficial, fundamental normative rules.
The works of 38 artists in this years Austro Sino Arts Program exhibition are not to be interpreted as "Western art presented in China". Many of these works were made here in China. The artists made China just as well their home as the place they originate from. This year, ASAP introduces an indoor and outdoor exhibition curated by Lukas Birk and Karel Dudesek supported by the Austrian Federal Ministry of Education, Arts and Culture and the Austrian Cultural Forum Beijing.
Indoor Opening: October 13, 2012, 4 -8pm
Location: Hong Studio, Diplomatic Compound 10-2-43, Sanlitun Dongsanjie, Beijing
Duration: from 13th to 21st of October, 2012
Publication: a 245 page catalogue will be published
Contact: beijing@austrosinoartsprogram.org
Indoor exhibition at Hong Studio, Beijing: In this year's 4th exhibition, "The Embassy of the Arts" shows artists from Austria, Canada, China, Colombia, the Czech Republic, Hungary, Italy, France, Spain and the USA. The works on display have been created by Franz Amann, G.R.A.M., Christine Cheung, Marianne Csaky, Dextro, Oda Fiskum, Jorge Fuembuena, Fanni Futterknecht, Sylwia Gorak, Frederique Hervet, Tina Hochkogler, Richard Hoeck, Michael Höpfner, Christian Hutzinger, Shana Kaplow, Sylvia Kummer, Li Qiang, Camilo Latorre, Moritz Majce, Lisa Meixner, Moira Zoitl & Ralf Hoedt, Moritz Neumüller, Joyce Rohrmoser, Christian Rupp, Florian Schmeiser & Ma Jia, Markus Sepperer, Joe Sneed & Jordan Mitchell, Jan Šrámek, Axel Stockburger, Veronika Vlková, Heimo Wallner, Wei Shen, Roswitha Weingrill, Kathryn Zazenski, Andreas Zingerle & Linda Kronman and Anne Zwiener.
---
Exhibition: Games People Play: Round 2
Exhibition: Games People Play: Round 2
6 October–10 February
Exhibition and Dome launch: all welcome Sunday 7 October 2-4pm
2.30pm – Introduction to the exhibition by Clive Adams, CCANW's Director. Refreshments. Music.
In this year of the London Olympics and Paralympics, Games People Play explores what games can tell us about human nature. This second part focuses on contemporary photography and video by 16 important international artists who use sporting imagery to make wider comments on the human condition. Here, we see explorations of territorial control and attachment to a team, fascination with spectacle and the culture of competition.
Artists: Stefan Banz, Bleda y Rosa, Nicolai Howalt, Hans van der Meer, Martin Parr, Newsha Tavakolian, Gustavo Artigas, Joseph DeLappe, Harun Farocki, Cao Fei, Julie Henry, Monika Oechsler, Caitlin Parker, Axel Stockburger, Spencer Tunick, Nives Widauer.
CCANW, Haldon Forest Park
Exeter EX6 7XR
T: 01392 832277 E: info@ccanw.co.uk
www.ccanw.co.uk
---
Seminar: Counter-Production
Counter-Production
7. September bis 16. Dezember 2012
13. September 2012, 19 Uhr
Drei Seminare mit Publikumsbeteiligung
Diese Veranstaltung wird einige der von der Ausstellung thematisierten Aspekte reflektieren und sie im Licht verschiedener Praxen und Expertisen in den Blick nehmen.
Diana Baldon, Kuratorin, Kunstkritikerin, Direktorin von Index – The Swedish Contemporary Art Foundation, Stockholm (Englisch)
Luke Skrebowski, Kunsthistoriker und Dozent, University of Cambridge, Cambridge (Englisch)
Axel Stockburger, Künstler und Dozent, Akademie der bildenden Künste, Wien (Deutsch)
---
Talk: The film that attracts you and eludes you, the film
Blickle Series #1 :
Der Film, der Sie anzieht und der sich Ihnen entzieht, der Film
The film that attracts you and eludes you, the film
4. Juli 2012, 19.00 Uhr
Blickle Cinema, 21er Haus, Schweizergarten, Arsenalstraße 1, 1030 Wien
Filmscreening followed by a talk with Axel Stockburger and Bettina Steinbrügge
Film program:
Jeanne Faust, IV, 2005, Video, 9 min
Jesper Just, Bliss and Heaven, 2005, Super 16 mm, 9 min
Antek Walczak, Paris from behind, 1999, Video, 25 min
Andree Korpys, Markus Löffler, Villa Feltrinelli,2008, HD Video, 15 min
---
Exhibition: humanimals
humanimals
an infraspecies exploration
Venue: Baba Vasa's Cellar
Marica 22 Street
Shabla, Bulgaria
baba-vasa.blogspot.com
Мазето на баба Васа
Ул. Марица 22
Град Шабла
България
Opening: 10.08.2012
Curator: Axel Stockburger
Artists:
Søren Engsted (DK)
Karine Fauchard (FR)
Julie Gufler (DK)
Jane Heiss (DE)
Nicolas Jasmin (FR)
Dejan Kaludjerović (AUT/CS)
Barbara Kapusta (AUT)
Isabella Kohlhuber (AUT)
Lazar Lyutakov (BG)
Johannes Porsch (AUT)
Franz Schubert (AUT)
Signe Ross (NZ)
In 1970 the Belgian concept artist Marcel Broodthaers decided to conduct an interview with a cat, asking numerous slightly esotheric questions about trends in the the art market and issues of aesthetics. Naturally the cat answered in her appropriate way, miaowing and purring after every question. Nearly thirty years later, the French Philosopher Jacques Derrida similarly positioned the encounter with a cat as an event signifying the complex relationship between human and animal. Following a scene where his cat observes him stepping out of the shower he asks: "before the cat that looks at me naked, would I be ashamed like an animal that no longer has the sense of nudity? Or on the contrary, like a man who retains the sense of his nudity? Who am I therefore? Who is it that I am (following)? Whom should this be asked of if not of the other? And perhaps of the cat itself? (Jacques Derrida, 1997).
These two positions became the starting point for the exhibition humanimals – an infraspecies exploration, which showcases a range of international artists who approach the emergence of the dividing line between human and animal. In his book "the open" Giorgio Agamben traces the history of the philosophical operation aimed at bringing about what it means to be human, a process he calls "the anthropological machine". This process has seen many different stations, from Descartes
characterisation of animals as mechanical entities lacking a soul, over Jakob von Uexkülls declaration of a multitude of different parallel lifeworlds, towards Donna Haraway's notion of animals as "significant others". The artists in humanimals – an infraspecies exploration engage with this "anthropological machine" according to their respective practices, ranging from photography over painting, drawing, video and installation.
---
Invited Talk: Post Media Conditioning: A technopolitical perspective on contemporary art
Axel Stockburger – O Condicionamento Pós-Guerra – Uma Perspectiva Tecno-política da Arte Contemporânea
Saturday, June 2, 2012, 19:30  pm
as part of the  Emoção Art.ficial 6.0 symposion  between Mai 31 and June 2 at Itau Cultural Centre  – curated by Fernando Oliva
with Laymert Garcia dos Santos, Lisette Lagnado, Arto Lindsay, Chris Kubick, Anne Walsh, Mario Ramiro, Rod Dickinson, Roberto Winter.
Itaú Cultural | Avenida Paulista 149 - Paraíso - São Paulo SP, Brazil.
---
Panel Discussion: Autistic architecture and advanced urban marginality
January 25, 2012, 8:00 pm
Franz Josefs Kai 3, 1010 Vienna
with:
Gabu Heindl (Architect, GABU Heindl Architecture)
Martin Guttmann (Artist)
Michael Obrist (Architect, Feld72)
Axel Stockburger (Artist)
Discussion moderated by: Max Kintisch
Contemporary architecture is marked by the proliferation of sublime landmark buildings, of icons serially produced by a few gifted individuals that more often than not remain indifferent to the local context in which their products are embedded in. What Maria Kaika calls autistic architecture is a practice of thinking and planning the urban that demonstrates a "pathological self-absorption and preoccupation with the self to the exclusion of the outside world"'. In the world city, the sublime ghettos in the sky of Nouvel, Liebeskind and the likes coexist with concentrated pockets of urban poverty build on the sediments of old and ultimately undesirable infrastructures. The icons of this new architecture give up on the possibility to "reclaim, remake or re-impose meaning" for the city, only to leave behind an accumulating "sediment" of old, worn-out junk spaces on its margins each time the tide goes in and out.
---
Exhibition: Troubling Research. Performing Knowledge in the Arts
Participants: Carola Dertnig, Teresa Maria Diaz Nerio, Diedrich Diederichsen, Simonetta Ferfoglia, Simone Forti, Patricia Grzonka, Ugo Guarino, Nina Herlitschka, Tom Holert, Carrie Lambert Beatty, Anita Moser, Gina Pane, Heinrich Pichler, Johannes Porsch, Nicole Sabella, Johanna Schaffer, Janine Maria Schneider, Stefanie Seibold, Axel Stockburger, Tanja Widmann, Maria Ziegelböck
Opening | 24.11.2011, 7.00 p.m.
Exhibition | 25.11.2011 – 31.12.2011
Venue | xhibit, exhibition rooms of the Academy of Fine Arts Vienna, Schillerplatz 3, 1010 Vienna
An exhibition as part of an interdisciplinary research project supported by the WWTF in the context of the Art(s)&Sciences Call 2009.
Opening hours: Tue-Sun 10 am – 6 pm
Closed on the 24. and 25.12.2011, open to the public on the 26.12.2011
You sometimes need a label that does not necessarily provide an instrument for locating anything but may be used like a screwdriver to open something within an institution. (Simonetta Ferfoglia, gangart)
The exhibition Troubling Research. Performing Knowledge in the Arts presents results of investigations, discussions, and other processes that have taken place at the Academy of Fine Arts Vienna in the context of the interdisciplinary research project of the same name supported by the WWTF. The artists and theorists participating in the project deal with the institutional desire for modes of cooperation between art and science, putting the new disciplinary formation that presently establishes itself under the name of "artistic research" or "art-based research" at art universities under pressure in argumentatively aesthetic terms.
---
Exhibition: Nothing in the World but Youth

Turner Contemporary
Rendezvous
Margate
Kent CT9 1HG
17 September 2011 – 8 January 2012
Inspired by Margate, a seaside town associated throughout history with youth experience, Nothing in the World But Youth encompasses the excitement, energy and pulsating creativity of the young, bringing together over 200 works by 94 artists in an examination of youth. The exhibition reflects and examines the complex picture of teenage lives and the differing views society has of its young people since the end of the nineteenth century. It includes works by internationally and nationally acclaimed artists, including Henry Moore, Peter Blake, Sarah Lucas, Andy Warhol, Mark Leckey, Jim Lambie and David Hockney.
These will be exhibited alongside early works by JMW Turner, who visited Margate regularly during his own adolescence.
The exhibition will take four main themes as a starting point to consider society's ambivalent views of its own young people, whilst celebrating teenagers' vibrant culture and the important role they play in society: Place, Space and Territory; Groups and Individuals; Rebellion and Responsibility; and Boys, Girls, Sexuality and Growing Up.
Reflecting the vibrancy of youth culture, it will also include objects such as a jacket customised by David Bowie as a teenager, iconic footwear, and a collection of magazines, posters, and other memorabilia from the post-punk period from the Mott Collection. There will also be a special selection of films about adolescence available for visitors to watch at their leisure.
"Nothing in the World But Youth is an exciting and vibrant exhibition containing a huge range of artworks. Although it focuses on what it is to be young, the theme is universal and the content is sure to spark memories for all our visitors, young or old. The theme of youth is also particularly relevant to Margate, and the town's own connection with youth culture"
Victoria Pomery, Director Turner Contemporary.
Artists: Henry Moore, Peter Blake, Sarah Lucas, Andy Warhol, Jim Lambie, Ross Sinclair, Corrine Day, Francesca Woodman, Santiago Mostyn, Gerald Leslie Brockhurst, Paula Rego, Sadie Benning, OZ Magazine, Martin Boyce, David Rayson, Mark Quinn, Peter Blake, Mark Leckey, Michelle Sank, August Sander, Humphrey Spender, Ron Mueck, Axel Stockburger, David Hockney, David Haines a.o.
---
Solo Exhibition: Jingshenfenxi
Opening: Saturday 30.07.2011 – at organhaus - Chongqing – China
---
Residency: Chengdu/China
Between October and December 2010 i spent some time in China working on several projects. see more here…
---
Talk: Freetalk at shanstudio audiovisual artlab
On Wednesday 22.12.2010 – 15h – 17h at shanstudio, Beijing
address: Dongcheng distrect, Anding men nei, N29 hua yuan hutong dong xiang,
Sweetness Home appt 3-2danyuan, room 302. Bejing.CHINA.   map
please contact by email shan.av.studio@gmail.com to tell us if you want to join this event.
We also will set up a live streaming for this freetalk. Please go online at shanavlab on Dec.22th (Wednesday) at 3pm on time and follow us for chatting.
---
Lecture: WARP ZONES
WARP ZONES: encountering spatial practices in contemporary game related media art
at: Arte e Novas Espacialidades: Relações Contemporâneas no Oi Futuro, Belo Horizonte
September 14.2010 – 19h
Oi Futuro Belo Horizonte
Av. Afonso Pena, 4001
Brazil
---
Interview: Axel Stockburger's Game/r Spaces
This interview is part of GameScenes' ongoing series on the pioneers of Game Art and the early days of the GameArt World. The conversation between Axel Stockburger and Mathias Jansson took place in June 2010 via email.
---
Exhibition: Videorama – Hong Kong
Videorama: Artclips from Austria
Para/Site Art Space Gallery 2
Curated by Angela Stief
Artists: Renate Bertlmann, BitteBitteJaJa, Paul Divjak , Thomas Draschan, Tomas Eller, Tina Frank / Peter Rehberg, Rainer Ganahl, Nicolas Jasmin, Anne JermolaewaSusi Jirkuff, Leopold Kessler, Dariusz Kowalski, Sabine Maier, Josh Müller, Rudolf Polanszky, Gerwald Rockenschaub, Station Rose, Markus Schinwald, Veronika Schubert, Franz Schubert, Hubert Sielecki, Axel Stockburger, Erwin Wurm
Organized by: Kunsthalle Wien (Vienna)
Videorama assembles Austrian single channel video and film works most of which date from the past ten years. Relying on both sophisticated and simple means, the artists, often working with existing pictures from the field of art or the everyday world, included short film, animated film and documentary pieces. While Nicolas Jasmin appropriates, abstracts, and develops his conceptual film works by using fragments from movies, the candle of Franz Schubert's animation recalls Gerhard Richter's great art and Sonic Youth's realm of pop culture.
The screening version of the exhibition Videorama, which might be divided into the sub-categories -Narrations,- -Extensions,- and -Clips,- comprises short films which not only lure us into fictitious creative and surrealist worlds like Markus Schinwald's work, but also allow us to experience the artists' pleasure in their act of story-telling like in the case of Josh Müller's contribution.
Based on dolly drives, stationary camera set-ups, and documentary strategies, the videos by Paul Divjak, Leopold Kessler, Dariusz Kowalski, and others reveal unusual locations as well as socio-political content and, above all, atmospheric conditions. Here we are being confronted with contemplative pictorial epics alongside images that are exciting and full of suspense.
This languid lingering on images provides a marked contrast to the main focus of the program on clip-like videos by such artists as Tina Frank/Peter Rehberg, Thomas Draschan, Susi Jirkuff, or Axel Stockburger that promise amusing entertainment while displaying structural similarities to music videos and advertising clips. Thomas Draschan, BitteBitteJaJa, and Axel Stockburger sample fragments to arrive at a new whole that unfolds as a digital montage in orchestral juxtapositions or sequences.
The pictures shown in Videorama go against the tide of the times in a sometimes perfectionist, sometimes trashy way. While Rudolf Polanszky may sometimes reveal absurdities far beyond the accepted and draw on the eccentric and the world of outsiders, Erwin Wurm's filmic One Minute Sculptures and Anna Jermolaewa's Affentheater, for example, evince a definite sense of humor that hits the nail on the head.
Videorama comes to Hong Kong as the result of an exhibition exchange between Para/Site Art Space and Kunsthalle Wien (Vienna).
Image: Morgan WONG Wing-fat, Plus Minus Zero, 2010
For media contact, please contact: Dominique Chiu
Email: dominique@para-site.org.hk
Tel: +852 2517 4620
Opening Friday 16 July 2010, 7pm
Para/Site Art Space
G/F, 4 Po Yan Street, Sheung Wan, Hong Kong
free admisiion
---
Exhibition: Videorama – Salzburg
Museum der Moderne Salzburg
Museum der Moderne Mönchsberg
Am Mönchsberg 32
A-5010 Salzburg
Österreich
fon 43-662-8042/2541
info@museumdermoderne.at
---
Exhibition: DaDa Da Academy archive: ON VIEW
Saturday, June 19, 2010
7 P.M. – Corridor Gallery, 36 Konstantin Stoilov Str., Plovdiv
Opening "DaDa Da Academy archive: ON VIEW" with works by Iris Brosch, Selma Doborac, Marina Faust, Lazar Lyutakov, Albert Mayr, Prodan Markov, Alexandar Peev, Elisabeth Penker, Panos Papadopoulos, Maximilian Pramatarov, Susanne Rogenhofer, Tamuna Sirbiladze, Axel Stockburger, Dorota Walentynowicz.
SITES + SUBJECTS: Performance Art Weekend
---
Screening: Multiplexed 1.1
Wednesday 7th of April 2010, 6:30 PM
TITANIK GALLERIA
Itäiinen Rantakatu 8, 20700 Turku, Finland
An evening of contemporary Austrian video works, programmed by Sumu artist-in-residence David Muth. Including work by Dariusz Kowalski, Annja Krautgasser, Andrea Maurer and Thomas Brandstätter, Josh Müller, David Muth, Axel Stockburger and Ubermorgen.com.
---
Artist Talk: as part of VIDEORAMA
KUNSTHALLE wien, halle 2, 04. November 2009 17:00
with Rainer Ganahl, Massimiliano Gioni, Susanne Jirkuff, Angela Stief, Axel Stockburger, Ian White
Moderation: Walter Seidl
---
Exhibition: Videorama
Art Clips from Austria KUNSTHALLE wien, hall 2, November 04th, 2009 – January 10th, 2010
Jurors: An international jury comprised of Sabine Himmelsbach, Edith-Ruß-Haus für Medienkunst, Oldenburg, Massimiliano Gioni, New Museum, New York, and Ian White, Whitechapel Gallery, London, will select the artists and works from the ursula blickle videoarchiv for the exhibition together with Angela Stief.
Curator: Angela Stief
Participating artists:
Klaus Auderer, Renate Bertlmann, BitteBitteJaJa (Ulu Braun/Roland Rauschmeier), Paul Divjak, Thomas Draschan, Tomas Eller, Tina Frank/Peter Rehberg, Rainer Ganahl, GRANULAR SYNTHESIS/Kurt Hentschläger & Ulf Langheinrich, Johannes Hammel, Nicolas Jasmin, Anna Jermolaewa, Susanne Jirkuff, Leopold Kessler, Dariusz Kowalski, Stephan Lugbauer, Sabine Maier, Ursula Mayer, Mara Mattuschka & Gabriele Szekatsch, Josh Müller, Rudolf Polanszky, Gerwald Rockenschaub, Markus Schinwald, Franz Schubert, Veronika Schubert, Walter Seidl/Stefan Geissler, Hubert Sielecki, Station Rose, Stermann & Grissemann, Axel Stockburger, Erwin Wurm, Heimo Zobernig.
A cooperation project of: Kunsthalle Wien, URSULA BLICKLE STIFTUNG, Universität für angewandte Kunst Wien
---
Solo Exhibition: WORLDEATER
OPENING RECEPTION*: OCTOBER 20, 2009 / 7pm – 10pm
EXHIBITION: OCT 21,2009 – DEC 11, 2009
W I N I A R Z Y K
Praterstr.13
A – 1020 Vienna
+43 699 11911 60…6
www.winiarzyk.com
---
Screening: Summer Reading
July 9 – August 1, 2009
curated by Mike Bouchet, with special guest Luke Butler.
Featuring: Lucas Ajemian | Daniel Beerstecher | Cedric Brelet von Sydow | Die Tödliche Doris (The Deadly Doris) | Sebastian Clough | Martina Geiger-Gerlach | Oliver Heinzenberger |Patrick Jackson | Byung Chul Kim | Florian Klette | Susanne Krepp | Dana Munro | Shane Munro| Peter Müller | Palm D'Or Entertainment inc. | Anahita Razmi | Michael C. Riedel I Christina Rodrigo Marco Schmitt I Axel Stockburger | Kestutis Svirnelis | Tyler | Nicolas Jasmin | Virginie Yassef and many many more…
INVISIBLE-EXPORTS 14A Orchard Street, New York NY 10002 >> 212 226 5447
---
Exhibition: TALK TALK – Das Interview als künstlerische Praxis
Hochschule für Grafik und Buchkunst, Leipzig, 27. 5 – 27. 6. 2009
Kunstverein Medienturm, Graz, 26. 9. – 28. 11. 2009, in Kooperation mit steirischer herbst
Galerie 5020, Salzburg, 3. 12. 2009 – 31. 1. 2010
Projektidee: Marc Ries
KuratorInnen: Reinhard Braun, Hildegard Fraueneder, Marc Ries + IAG-Leipzig
Mit Arbeiten von Roozbeh Asmani (D), Gregory Bateson (GB/USA),  Ursula Biemann (CH), Sabine Bitter, Helmut Weber (A/CAN),  Jörg Burger (A), Yvon Chabrowsky (D), Dellbrügge & de Moll (D), Jeanne Faust (D), Andrea Fraser (US), Till Gathmann (D); Ronald Gerber (D), Jochen Gerz (D/IRL), Jean-Luc Godard (F), Klub Zwei (A),Kathi Lackner (A), Katarina Matiasek (A), Alex McQuilkin (US), Björn Melhus (D), Antoni Muntadas (E), Daniel Pflumm (D), Mark Raidpere (EST), Oliver Ressler & Dario Azzellini (A/D/VEN), Julika Rudelius (NL), Corinna Schnitt (D/US), Axel Stockburger (A/GB), Telewissen (D), Kerry Tribe (US), Ingrid Wildi (CL/CH), Manuela Zechner (A/GB)
---
Exhibition: After The End / Faux Raccords
Edificio de Tabacalera, Madrid – 16 April – 16 May 2009 – OPENING on April 16 > 19:00
"After the end / Faux raccords" is a research project about the possible images within our society of omnipresent images. The project is approached critically and reflexively, using the internet as a medium and singular aesthetic approaches in order to essentially question our era: signs and images being recycled, their misappropriation, their suspension, data circulation through the internet, work, economy, utopia. This exhibition is interrupted by breaks where links question our image within contemporary culture.
with: Tony Cokes (US), Thomas Köner (DE), Antoni Muntadas (ES), Hans Op De Beek (BE), Charly Nijensohn (AR), RYBN (FR), Manuel Saiz (ES), Corinna Schnitt (DE), Ubermorgen (AT), Lawrence Weiner (US), Axel Stockburger (AT)…
---
Screening: ritesinstitute – Austrian Art Videos/Films
19/4/09 – 20:00h – CCA Center for Contemporary Art, 5 Kalisher St., Tel Aviv
Parallel to the "Oy Wina" Film festival in the cinematheque, the Center of Contemporary Art, shows a compilation of nine Austrian art videos at the suggestion of the city of Vienna. The vdeos range from the avant-garde of the 1960ies/1970ies (Valie Export, Kurt Kren) to the contemporary digital and conceptual video art (Michael Aschauer, Klub Zwei, Virgil Widrich, Axel Stockburger). Although this sample consists of a variety of artistic approaches, all the projects have one aspect in common: they question the mode of the medium "film," exploring its construction of perception and "cultural memory" through the production of certain images.
Curated by Friedemann Derschmidt and Karin Schneider (ritesinstitute).
---
Screening: Multiplexed
E:vent Gallery, 96 Teesdale Street, London E2 6PU
Friday 12th of December, 2008, 8 – 10pm
E:vent presents an evening of contemporary Austrian video works, organised by David Muth. Including work by Tomas Eller, Dariusz Kowalski, Annja Krautgasser, Josh Müller, David Muth and Axel Stockburger.
---
Exhibition: It's All In The Game
AVECOM – CBKArnhem, NL, 08.10.08 – 26.10.08
participating artists: Artekton (NL) – Bas van Beek (NL) – Wouter Bijl
(NL) – Cactus (SW) – Robbie Cornelissen (NL) -
Mark Essen (USA) – Eteam (USA) – Gijs Gieskes (NL)
- Wannes Goetschalckx en Ruben Kindermans (BE) –
Hooliganship (USA) – Frank ter Horst (NL) – Karl
Klomp & TOKTEK (NL) – Keith Lam (HK) – Walter
Langelaar (NL) – Javier Lloret (ES) – Peter Luining
(NL) – Marc Maurer (NL) – Mumbleboy (NL) – Leonard
van Munster (NL) – Jan van Nuenen (NL) Ton
van Rijswijk (NL) – Petri Purho (FI) – Gordan
Savicic (AT) – Axel Stockburger (GB/AT) – Boris
Tellegen (NL) – Danja Vasiliev (RU) – Daniël van
der Veer (NL) – Marieke Verbiesen (NL/NO) – WISE
(GE) – Michiel van der Zanden (NL) – Andreas
Zecher (SE) – Bas Zoontjens (NL/GE)
---
Exhibition: Homo Ludens Ludens
HOMO LUDENS LUDENS
LOCATING PLAY IN CONTEMPORARY
CULTURE AND SOCIETY
Exhibition: 18th April – 22nd September 2008
Symposium: 19th – 20th April 2008
LABoral Centro de Arte y
Creación Industrial, Gijón
http://www.laboralcentrodearte.org
LABoral Centro de Arte y Creación Industrial presents HOMO LUDENS LUDENS, an international exhibition and symposium exploring games as a critical element in our daily lives and a speculation on the emergence of the "Homo Ludens Ludens": the contemporary playing man. What does it mean "to play" and to be "a player"?
The goal of this Symposium, organised jointly with The Planetary Collegium, is to provide the framework for contemporary play, to highlight its interdisciplinary nature, and to show the multifaceted reality of our present-day entertainment society.
ARTISTS PARTICIPATING IN THE EXHIBITION: John Paul Bichard, France Cadet, Derivart, Devart, Hannah Perner-Wilson & Mika Satomi, Ge Jin, Vladan Joler, Radwan Kasmiya, John Klima, La Fiambrera Obrera & Mar de Niebla, Danny Ledonne, Valeriano López, Ludic Society, Marcin Ramocki & Justin Strawhand, Martin Pichlmair & Fares Kayali, Brian Mackern, Larry Miller, MIT Lab – Drew Harry & Dietmar Offenhuber & Orkan Telhan, Molleindustria, Julian Oliver, Orna Portugaly & Daphna Talithman & Sharon Younger, Personal Cinema & the Erasers, Rolando Sánchez, Alex Sanjurjo, Gordan Savicic, Axel Stockburger, Silver & True, Román Torre, David Valentine/MediaShed (ft. Methods of Movement), Volker Morawe & Tilman Reiff, William Wegman.
SYMPOSIUM PARTICIPANTS: Roy Ascott, Laura Baigorri, Laura Beloff, Erich Berger, José Luis de Vincente, Julian Dibbell, Daphne Dragona, Wolfgang Fiel, Gonzalo Frasca, Luis Miguel Girão, Margarete Jahrmann, David McConville, Guto Nóbrega, Julian Oliver, Paolo Pedercini, Mike Phillips, Martin Pichlmair, Michael Punt, Nicolas Reeves, Natacha Roussel, Semi Ryu, Anne Marie Schleiner, Natasha Vita-More, McKenzie Wark, Monika Weiss.
CURATORS:
Erich Berger, Chief Curator, LABoral Centro de Arte y Creación Industrial, Gijón
Laura Baigorri, New Media Arts Curator, Barcelona
Daphne Dragona, New Media Arts Curator, Athens
LABoral Centro de Arte y Creación Industrial is a space for artistic exchange. It is set up with the purpose of establishing an effective alliance between art, design, culture, industry and economic progress and the goal of becoming a space for interaction and dialogue between art, new technologies and industrial creation. It throws a special spotlight on production, creation and research into art concepts still being defined.
Opening Hours: Wednesday to Monday, 12 noon – 8 pm
LABoral Centre for Art and Creative Industries
Los Prados, 121
33394 Gijón (Asturias) Spain
Tel: +34 985 185 577
http://www.laboralcentrodearte.org
info@laboralcentrodearte.org
---
Exhibition: Real Life
curated by Sarah Sparkes
Layla Curtis, CMPW (Chris Coombes, John Moseley, Julian Wakeling, Harry Pye),
Gordon Beswick, Sarah Doyle, Lizzie Hughes, Romain Forquy, Axel Stockburger,
Heidi Stokes, Geraldine Swayne, Ricarda Vidal, Josie Wood,
Andrew Cooper and Sarah Sparkes (fabrication of Agit Train Cinema).
Private View 4-8pm Thursday 6th March
Exhibition continues March 7th – 15th 2008
Opening hours: Thursday – Friday 4-7, Saturday 1-6
Portman Gallery, Morpeth School, Portman Place, London E2 0PX
(Tube: Bethnal Green)
What is real? how can we be sure that this world is nothing more than an illusion, and that life is just a dream? 'Real life' is an exhibition in which artists use film and photography as a means to capture their own sensations and experience of the external, whether analytical, intellectual or emotional, and allow us a transitory, illuminated insight into the world from behind their eyes.
Saturday Matinee – 'The Stuff of Life' artists' film screening, curated by Ricarda Vidal,at 3pm on Sat 15th March
---
Exhibition / Performance: Abstracts Of Syn
Performance – Axel Stockburger / Nicolas Jasmin – Friday 18.01.08/18h
arge kunst / galerie museum – Via Museo 29
I – 39100 Bozen – Bolzano
tel +39 0471 971 601
fax +39 0471 979 945
tue-fri 10 am – 1 pm, 3 – 7 pm, sat 10 am – 1 pm, sun and mon closed
info@argekunst.it
ABSTRACTS OF SYN – Edition Medienturm, curated by Sandro Droschl
Rosa Barba / Jan St. Werner, Tomas Eller, Tina Frank / Florian Hecker, Karø Goldt / rashim, Andrés Ramírez Gaviria, G.R.A.M. / reMI, Dariusz Kowalski / Stefan Németh, Annja Krautgasser / Martin Siewert, Jan Robert Leegte, Lia / @c, Christopher Musgrave / Xopher Davidson, N.I.C.J.O.B. / Hüseyin Evirgen, Karina Nimmerfall, Dietmar Offenhuber / tamtam, Pfaffenbichler.Schreiber / Bernhard Lang, reMI, Axel Stockburger, Gerold Tagwerker / Siegrun Appelt / Martin Brandlmayr, Marius Watz.
---
Invited Talk / Screening: MUSIC:MIRROR:PROPHECY


SECESSION, Vienna, Thursday, December 13, 2007, 7-9 pm
The Presentation is part of a series of events called 6 sessions that runs until January 2008. The films of the American artists Gabriel Shalom and Nate Harrison presented by Axel Stockburger were first seen in Europe in 2005 as part of the screening program organized in Stuttgart by Cornelia and Holger Lund of FLUCTUATING IMAGES.
HOUSE (USA, 2005) by Gabriel Shalom
is a video documentation on the various styles of house music and the corresponding music machines, such as the legendary Roland TB 303 Bass Line.
BASSLINE BASELINE by Nate Harrison (USA, 2005)
is a video essay that follows the invention, the failure, and the subsequent return of the Roland TB 303 Bass Line over the last two decades of the 20th century. After the screening, Axel Stockburger, prompted by an idea from the French theorist Jacques Attali, will consider the extent to which developments affecting technological, economic, and social aspects of the musical field have consequences for the cultural landscape as a whole.
---
Invited Talk: Modalities of Space in Video and Computer Games
As part of the program ON/OFF at the Architectural Department RWTH Aachen, 19.11.2007. Invitation by Georg Rafailidis.
---
Panel Discussion : Your Space Is Not Myspace
User Generated Content meets Contemporary Fine Art
Sat 17.11.2007, 18h, at kM > showroom, Gumpendorferstr. 23, 1060 Vienna.
As part of the exhibition protophysik 1 at km>showroom F.E.Rakuschan und Axel Stockburger discuss issues surrounding social networks and contemporary fine art.
---
Exhibition: Zero Gamer
At the London Games Festival Fringe 2007, HTTP Gallery presents the Zero Gamer exhibition in the festival lounge at 01zero-one before its presentation at HTTP Gallery. 22-26.10.07- continues at HTTP gallery -2-18.10.07.
Curated by Ruth Catlow, Marc Garrett (HTTP/Furtherfield.org) and Corrado Morgana.
Zero Gamer looks at games played, unplayed and unplayable, the spectator and the spectacle. Sometimes we just like to watch, and machinima, gameplay videos and spectator gaming events take the activity out of interactivity. Zero Gamer presents games that play themselves, video documents of in-game performance, game engine experiments and challenging documentaries on gameplay.
With: Myfanwy Ashmore, JODI, Axel Stockburger, Corrado Morgana, Eric Fredricksen, Ljudmila.
I also wrote a keynote text for the show that can be read here >>>
---
Exhibition: Images
a project by spike art magazine in cooperation with Into Position
Opening: 25.09., 6 pm
Duration: 26.09. until 07.10.
Bauernmarkt 1, 2. Stock, 1100 Vienna One artistic work leads several different lives: as an original, a reproduction, a story and a memory. The exhibition Images is concerned with the idea of the reproduction as a picture. Not as appropriation, but rather as part of everyday life: the reproduction of artistic works in catalogues, books, magazines, portfolios, press folders, archives and on websites, as well as their aesthetic structures. In the variety of ways they appear, these "secondary pictures", which are omnipresent in the art world, constitute an enormous parallel exhibition above and beyond temporal and local conditions. In this sense, these "pictures of pictures" are not actually a secondary phenomenon at all, but a separate field with its own definable significance. Images asserts that parallel pictures are autonomous and have an aura of their own, which is derived from the particular features of their materials, colours and dimensions, but is also based on the paths these pictures take through the imagination – as well as the pragmatism of their distribution.
With: John Armleder, Daniel Baumann, Catrin Bolt, Burghard, Plamen Dejanoff, Severin Dünser, Christian Egger, Cyprien Gaillard, Mario García Torres, Liam Gillick, Hans-Jürgen Hafner, Nicolas Jasmin, Christian Kobald, Sonia Leimer, Christian Mayer, Jonathan Monk, Marcus Neufanger, Flora Neuwirth, Falke Pisano, Seth Price, Stefan Sandner, Christoph Steinegger, Axel Stockburger, Betty Tompkins, Rita Vitorelli, Arye Wachsmuth
---
Invited Talk: Visual Music – Synchronicity
CAMP Festival, Württembergischer Kunstverein, Stuttgart - 17.08.07 19h
I have been invited to give a talk about Visual Music by Holger and Cornelia Lund of fluctuating images.
The talk discusses the emergence of audiovisual aesthetical systems designed by artist for an active audience as a novel paradigm in opposiion to the cassical performer – audience divide.
---
Exhibition: Play Safe – Battlefields in the Playground
OPENING 26 JULY, 6PM – 11AM-8PM, 26 JULY-1 SEPTEMBER
PROJECT ARTS CENTRE, 39 EAST ESSEX STREET, TEMPLE BAR, DUBLIN 2, IRELAND.
Yael Bartana (IL), Ralph Borland (ZA/IE), Joost Conijn (NL)
Gintaras Makarevicius(LT) & Axel Stockburger (DE)
Curated by Jonathan Carroll
'Imagine the folly of allowing people to play elaborate games which do nothing whatever to increase consumption. It's madness. Nowadays the Controllers won't approve of any new game unless it can be shown that it requires at least as much apparatus as the most complicated of existing games.' Aldous Huxley, Brave New World, 1932. Play Safe is a group exhibition exploring the interest of artists in several aspects of the creativity of play, from children's inventiveness and adventure to artists who use new media to explore the area of computer games. While play has developed into a sophisticated means of simulating war it has also become a method of peaceful protest against civil and other injustices. In an increasingly regulated society, play is one of the few remaining arenas where scenarios can be tested without risk of censure. Play Safe encompasses play from the innocent play-acting of children to adults who return to a form of play as a political tool.
---
Invited Talk: Wargames – Battlefields in the Playgrounds
Project Art Center, Dublin, Ireland – 26 JULY 6PM – 4.30PM
The Presentation addresses the overwhelming presence of war related
imagery and action in contemporary digital games. It aims to trace the relationship between
military research and the entertainment industry that has led to the emergence of the military
entertainment complex and presents critical approaches to this subject by artists.
---
Exhibition: Fresh Trips
Fr 29.06.2007 19:00 – Sa 04.08.2007 16:00 Ausstellung
Festival of contemporary art aspects
a cooperation of medien.kunst.tirol & Kunstraum Innsbruck
---
Invited Talk: Playing at Freedom
22.06.07 – 19h
Im Rahmen der Ausstellung: Pensée Sauvage – von Freiheit (29.05-08.07) Frankfurter Kunstverein
Steinernes Haus am Römerberg, Markt 44, D-60311 Frankfurt am Main
Öffnungszeiten: Di-So: 11-19 Uhr
SPEAKING OF OTHERS


Der Vortrag positioniert Spiel als einen idealen Ort um den Begriff
menschlicher Freiheit zu untersuchen. Unter anderem wird die paradoxe
Situation dass gerade aus regelgebundenem Verhalten im Spiel eine
spezifische Form der Freiheit entstehen kann angesprochen. Die Rolle
des Spiels als einer Form, die alle anderen menschlichen
Tätigkeitsfelder gegenwärtiger Gesellschaften beeinflusst, wird dabei
in Bezug zu Fragen nach den Bedingungen politischer
Handlungsfähigkeit gesetzt.
---
Workshop: Being Played
23 June 14-18h, Im Rahmen der Ausstellung: Pensée Sauvage – von Freiheit (29.05-08.07) Frankfurter Kunstverein
Steinernes Haus am Römerberg, Markt 44, D-60311 Frankfurt am Main
Öffnungszeiten: Di-So: 11-19 Uhr
Der workshop beschäftigt sich mit dem Begriff der Freiheit in der
gegenwärtigen Computerspielkultur. Wie frei ist der Spieler eines
Spieles tatsächlich? Während des Spielens werden Themen wie die
Konfigurierbarkeit von Spielen, sowie ökonomische und legale
Strukturen in den gegenwärtigen Unterhaltungswelten von den
Teilnehmern gemeinsam untersucht.
---
Exhibition: Driven

Group Exhibition curated by Sarah Sparkes
30 June – 29 Juli, Private View June 29 – 6-9 pm
Fieldgate Gallery 14 Fieldgate Street, London E1 1ES
---
Exhibition: Video As Urban Condition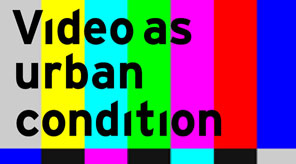 a project exploring how video shapes urban experience
curated by Anthony Auerbach
Lentos Kunstmuseum/Museum of Modern Art Linz
Free entrance 19 April–27 May 2007
---
Exhibition: Gameworld

30/03/07 – 30/9/07 at LABORAL CENTRE FOR ART & CREATIVE INDUSTRIES, Gijon, Spain.
Group-exhibition curated by Carl Goodman (Museum of the Moving Image, New York) and Daphne Dragona (Mediaterra Festival) .
Gameworld explores video games as an art form and presents contemporary art related to video games. Via these dual lines of investigation, the exhibition explores video and computer games as entertainment, art form, agent of innovation, and cultural force.
Gameworld is conceptualized as two hemispheres, one focusing on internal considerations (game history and design) and the other on external considerations (how games are shaping culture), linked via a third, intermediate, section devoted to alternative games and current games research.
Participant artists:
Peggy Ahwesh (US)
Cory Arcangel and Paper Rad (US)
Aram Bartholl (DE)
Jonathan Blow / Number None (US)
Ian Bogost/ Persuasive Games (US)
Chris Burke (US)
Thatgamecompany (Jenova Chen, Niki Clark, Austin Wintory)
Brody Condon (US)
Joseph DeLappe (US)
Dirk Eijsbouts (NL)
Eastwood Group (SV)
Mary Flanagan (US)
La Fiambrera Obrera (ES)
Fur Collective (DE)
Brent Gustafson (US)
Friedrich Kirschner (DE)
John Haddock (US)
Hitlab (NZ)
Walter Langelaar (BR)
Joane Leandre (ES)
Danny Ledonne (US)
The Ludic Society (Margarate Jahrman and Max Mowitzer) AT/CH)
Miltos Manetas (US/GR)
Eva and Franco Mattes (a.k.a. 0100101110101101.ORG) (IT)
Julian Oliver (DE/NZ)
Ken Perlin and Gerry Seidman (US)
Michael Mateas and Andrew Stern (US)
Niklas Roy (DE)
Douglas Edric Stanley (FR)
Eddo Stern (US)
Axel Stockburger (DE)
Keita Takahashi (JP)
Tale of Tales (Auriea Harvey and Michaël Samyn) (BR)
Workspace Unlimited (Thomas Soetens and Kora Van den Bulcke) (BR)
---
Exhibition: Potential Dialogue – Facts and Fiction
Group-exhibition curated by Christiane Krejs, Kunstraum Noe
November 17 – 26, 2006, RCM Museum, Nanjing, China.
I am collaborating with Nikolaus Gansterer on a project entitled Bureau of Rich Harvest.
---
Film Festival: Rencontres Internationales Paris/Berlin
showcases my work Boys in the Hood.
FESTIVAL AVANT-PREMIERE – AT THE CENTRE GEORGES POMPIDOU – NOV 16TH AT 8PM
Screening + electro lounge – Address: Place Georges Pompidou – 75004 Paris – M° Châtelet-Les-Halles/ Rambuteau / Hôtel de Ville.
---
Invited Talk: Replay
Dundee Contemporary Arts / DCA, Scotland on the 15/11/06 11h
---
Exhibition: Grounded
E:vent Gallery, 96 Teesdale Street, London E2 6PU
28/10/2006 – 19/11/2006
iimage: Nikolaus Gansterer (2003) Micro Society
Curator: Axel Stockburger
Artists: Axel Stockburger, Josh Muller, Nicolas Jasmin, Jonathan Quinn, Nikolaus Gansterer, Douglas Fishbone
Private View: Friday 27 October, 6–10pm
Gallery opening hours: Fri – Sun, 12 – 6pm
Opening night performance by Douglas Fishbone, 9pm
The group exhibition GROUNDED brings together a diverse range of international artists. It aims to show work that deals with processes of modeling and simulation, activities that form the conceptual backbone of digital culture. However all of the artists involved are tackling this subject with an array of practices that are firmly rooted in physical environments, from architecture to installation thus addressing important elements of digital culture with essentially non-digital means. In this sense the exhibition attempts to question the notion of media art as overtly shaped by technology in order to foster an understanding that reaches beyond technological determinism.
more info at: info@eventnetwork.org.uk
020 7613 0300
---
Discussion Panel: Salon or Seminar (Resonance FM)
24/10/2006
Salon or Seminar @ E:vent
What does media art and digital media mean to you?
Discuss its connotations, relevance and influence with an influential panel of experts.
Drinks from 6pm, debate 7-8pm
Tuesday 24th October 2006
Panelists include:
JJ Charlesworth (art critic/writer),
Axel Stockburger (artist and games theorist),
Sue Thomas (author of Hello World: Travels in Virtuality)
Marina Vishmidt (writer, installation artist)
Chaired and organised by Cecilia Wee (Rational Rec, Resonance FM)
---
Exhibition: Gaming Realities
Technopolis, Athens Greece 4-8.10.2006
The exhibition is part of the 7th International Art + Technology Festival
and the GAMING REALITIES Conference
More information and details:
www.mediaterra.org and Gaming Realities
or contact us
tel +302106460748
FAX +302106470069
---
Screening: Vital – International Videoart 2006
Wednesday June 28, 2006
The video We Accept has been selected for the international V.I.V.A. Festival at Zwolle, NL.
Curators:
Niels van Tomme, Belgium
Claire Cooke, onedotzero, London
Celine Brouwez, Belgium
Pim Trooster, Holland
---
Artist Book / Exhibition: CENTREFOLD
Reza Aramesh has invited me to contribute to CENTREFOLD the artist book series he curates.
CENTREFOLD will be presented at ZOO Artfair in London between 13.10.06-15.10.06
---
Exhibition: Reboot – Works from the Jim Barr and Mary Barr Collection
Saturday 26.08.06 – Sunday 12.11.06 – Dunedin Public Art Gallery, Dunedin, New Zealand
My piece PSX Warriors: Gran Turismo is part of the collection/show.
In 2001, the exhibition Good Work brought classic works from the Jim Barr and Mary Barr loan collection together with works recently acquired by the Wellington collectors. Reboot takes stock of a further five years in the collection's life and showcases the multimedia energy of their recent acquisitions – from videos through to wall paintings. Including young New Zealand artists such as Eileen Leung and Glen Hayward alongside international luminaries such as Paul McCarthy, Ricky Swallow and Gillian Wearing, Reboot reveals the international range of the Barrs' recent acquisitions, and testifies to their belief that collecting art ought to be a 'partisan, passionate and polemical' act.
A Dunedin Public Art Gallery exhibition.
---
Exhibition: Marte e Aqui
27.08.06 – 15h – 24h
Rua Simpatia 265, Vila Madalena, Sao Paulo, Brazil
curated by Fernanda Chieco, Juliana Monachesi, Ana Texeira, Renato Dib
---
Radio Interview: Art and War

I have been invited to one part of the 5 part Art and War series organised by Cecilia Wee on the London based Radio Station Resonance FM. We will talk about the relationship between computer games and the military entertainment complex and the impact of military topics and themes on game culture.
If you are interested tune in on Saturday 05.08.06 – 12:00 – 12:30.
---
Exhibition: Brilliant City
5 June – 1 July 2006
Starkwhite is pleased to present Brilliant City from 5 June to 1 July 2006. Located in New Zealand on Auckland's Karangahape Road, Starkwhite presents a programme of artists' projects, solo shows, iindependently curated exhibitions and occasional forays into new music and interdisciplinary practices. Starkwhite also represents artists from New Zealand, Australia and the Pacific rim.
Please contact the gallery for further information on the exhibition.
Starkwhite
510 Karangahape Road, Auckland, New Zealand
Tel. +64 9 3070703
info@starkwhite.co.nz
Monday to Friday 11.00am to 6.00pm
Saturday 11.00am to 5.00pm
www.starkwhite.co.nz
---
Talk: Game Architecture
Studio Lainer at Acadamy of Fine Arts Vienna, May 24/06 14:00.
---
Live Performance: Simultan 02 Festival
May 19/06 – video performance with the South African sound artist Mark Schreiber at Simultan02 – International video/sound experimental festival in Timisoara , Romania.
---
Screening: videoDictionary
The videoDictionary collection that includes my work race is shown at Image Forum Festival in Tokyo
on May 4/06.